South Fork Calendar of Events
There are miles and miles of trails that offer fun and adventure for the whole family. From 1/2-mile walks for the novice hiker to 5-mile treks that lead to other trails that go on and on into the wilderness… you will not only get a great workout, but will encounter spectacular mountain scenery and a variety of wildlife!
As you prepare for your venture into the woods it is suggested that if you plan to travel more than 30 minutes from your car that you carry a day pack. This should include water, food, rain gear, and a sweater. Remember when hiking in the mountains that weather conditions are rapidly changing, and you should be prepared for anything, so not to get surprised, and possibly lost in any inclement weather.
A few of our favorite hikes:
• Big Meadows Lake Trail #839 (Archuleta Trail)
Start at Big Meadows Lake and you can either walk around it or at the upper end of the lake take the Archuleta Lake trail.
Difficulty: Moderate - due to eleveation gain of mearly 3,000 ft.
Distance: 2 Miles to Wiminuche Wilderness border
• Giant Fir Tree Trail
The trail will be found at the end of Bever Creek Reservoir, on the left side maked "The Fir".
Difficulty: Easy to Moderate
Distance: 1/2 mile
• Hunter's Lake #800
Trailhead past Big Meadows 11 miles. Trail begins at Wilderness boundary, you may continue around the lake to the Highland or Tie Hill trails.
Difficutly: Easy to Moderate (11,000 - 11,400ft.)
Distance: 1 mile
• Middle Alder Creek #797
Trail stats at first switchback past Alder Creek Guard Station.Trail corsses small creek, with a lot of windfall. About 4 miles up is an abandoned cabin and saw mill site. Motorcycle Friendly
Difficutly: Moderate
Distance: 5 Miles
• Million Reservoir
From Beaver Creek Road drive about 5 miles to access parking lot.
Difficutly: Easy (8,700ft.)
Distance: 1/2 mile
• Tewksberry Trail #842
Follow the Beaver Creek Road a few miles until you see a sign "Tewksberry Trail" on the right and follow that road stay to the right. Behind the horse corrals you will find the trail. Motorcycle Friendly
Difficulty: Moderate
Distance: 5 miles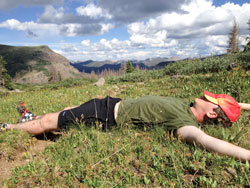 • Crater Lake Trail #707
Road #380 until you see the Crater Lake trail marker.
Difficulty: Strenuous due to elevation gain of 2,000 ft.
Distance 4 1/2 miles
• Highland #832
Follow Big Meadows to dead-end, trail starts on left side of turn around.
Difficulty: Moderate (10,500-12,200ft.)
Distance: 1/2 mile
• Spruce Lakes #710
Follow Big Meadows (Archuleta trail to intersection with trail 750 turn left to 710 intersection.
Distance: 3-4 miles to intercection then 3/4 mile
• Wheeler Trail • learn more here