The Rio Grande National Forest is filled with riding opportunities for beginner and advanced riders. Several trails are within a couple miles drive from town, and some are specifically listed as multi-use for bikes…not to mention the hundreds of miles of forest service access roads open to cyclists of all abilities. Many trails are multi use - so be prepared for hikers, horses, and ATV's along the way.
When riding any of the trails available you need to remember that we are at over 8,000 ft. on the valley floor, and you need to be prepared and physically fit before hitting the harder, higher altitude trails. There are numerous well maintained and beautiful trails.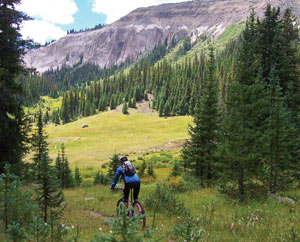 When using any of the trails in the area around South Fork, it is asked that all riders follow the IMBA rules of the trail which are as follows:
1. Ride on open trails only
2. Leave No Trace
3. Control your bicycle
4. Always yield trail
5. Never spook animals
6. Plan ahead
Our Favorite Mountain Bike Trails
Deep Creek #806 (F3-4)
LOWER: 4 miles, 2-3 hrs • Easy
This portion of the trail is a smooth sweeping single-track.UPPER: 7 miles, 4-5 hrs • ModerateThere are a few water crossings, and a few rocky sections.
TOP: 9 miles, 2-3 hrs • Expert
8750-11,400ft • A great challenge to clean the entire upper section.
Middle Frisco Creek #879 (J6)
LOWER: 4 miles, 2-3 hrs • Easy
Start out riding lower section. This portion of the trail is fairly smooth.
UPPER: 7 miles, 3-5 hrs • Moderate
9500-12,000ft • Expect to avoid a few stationary rocks and tree roots and work on switchback skills!
Penitente Canyon (K3)
A LOOP • 2.75 miles • Moderate
A loop will start out with a short grunt of a climb, and then it levels out on the ridge where it is fast and fun. For expert riders, there are plenty of challenging "Rock options" along the way.
B LOOP: 2.75 miles • Easy
B loop is a good place to learn the basics of mtn. Biking on single-track. The trail is mostly smooth with a few minor rocky spots. Also good for Intermediate riders to focus on form and speed.
Treasure Mountain #565 (G7-8)
28.5 miles, 4-7 hrs • Moderate, Expert
This trail will test your abilities for downhill biking! Occasional dismounts over creek crossings.
Trout Creek #831 (G-H5)
4 miles to the creek • Moderate, Expert
This is a fun trail but be careful of exposed areas - don't fall off the trail. For expert riders, the trail is fast and great for race training.
Palisade #761/Alder Bench #799 (H4-5)
7 miles, 2-4hrs • Expert
Expect some rock gardens, and even a few spots with some loose rock.
Lake Fork #836 (G6)
7 miles, 4-7hrs • Expert
This trail is comprised entirely of expert level high alpine single-track. The trail crosses rock slides & climbs to high alpine meadows giving you some of the most amazing mountain views.