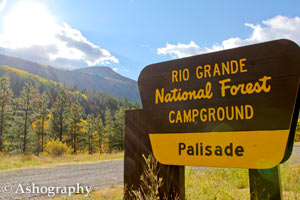 The Rio Grande National Forest offers a multitude of camping opportunities. Whether you decide to stay in a portable camper trailer, tent, or rough it under the stars, you are sure to find the perfect location. Almost 2 million acres of national forest surrounds the South Fork area, and approximately 17 campgrounds have been developed along highways 149 and 160. Most accommodate both camper trailers and tents.
Forest Service campgrounds usually offer the following items: Tables, Toilets, Fire Grates, Garbage Cans, Parking Spurs and Drinking Water. Fire rings must be used. Visitors are allowed to stay up to 14 days, unless otherwise posted, reservations can be made for some campgrounds, although most are on a first come first serve basis.
The Rio Grande National Forest also has many undeveloped camp sites and wilderness areas. There are private properties throughout the forest, so please beware and do not cross the boundaries.
Enjoy your forest and natural resources.
| | | | |
| --- | --- | --- | --- |
| CAMPGROUNDS | Sites | Fee | Water |
| Big Meadows • Access to several lakes and hiking trails | 42 | $18 | |
| Cathedral • Access to fly fishing on Embargo Creek | 22 | FREE | |
| Cross Creek • Located at Beaver Creek Reservoir, at hiking trail head | 8 | $18 | |
| Highway Springs • On the banks of the South Fork | 13 | $18 | |
| Lower Beaver Creek • Access to Beaver Creek & Beaver Creek Reservoir | 18 | $18 | • |
| Palisade • Along the Rio Grande River, between South Fork and Creede | 12 | $18 | • |
| Park Creek • Access to the historic Summitville Mine | 13 | $18 | • |
| Tucker Ponds • Access to Tucker Ponds and Pass Creek | 15 | $18 | • |
| Upper Beaver Creek • Access to Beaver Creek & Beaver Creek Reservoir | 14 | $18 | • |