The Upper Rio Grande area offers some of the best fishing in Colorado. Gold Medal waters on the river and an abundance of creeks, lakes, and reservoirs provide year-round opportunities for the avid fisherman! Online and in-person, check with knowledgeable outdoor shops, license vendors, fishing lodges, guides and outfitters.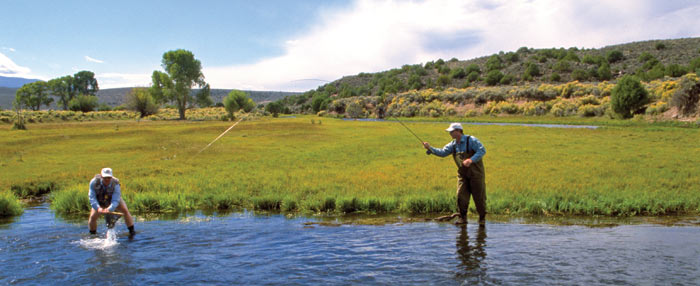 Fishing Licenses are required for people 16 years or older. Children under 16 don't need a license, and may take a full bag and possession limit.
Daily Bag Limit: is the maximum number of fish you can take in one day - this varies according to the area and species, so please consult the state guide book
Possession Limit: is the maximum number of fish allowed in possession at any time.
Click to enlarge fishing map: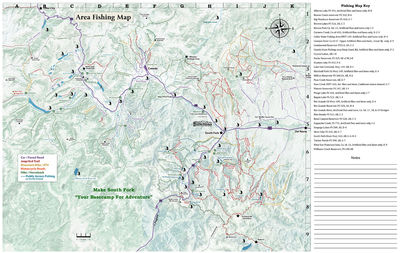 Gold Medal Waters on the Rio Grande River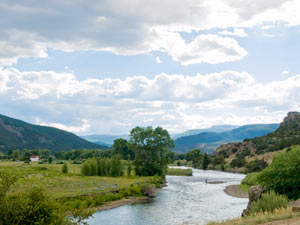 South Fork boasts the longest stretch of Gold Medal Waters in the entire state. Nearly 20 miles of the Rio Grande River receive this designation from the Colorado Division of Wildlife. These designations are given out sparingly and represent the highest quality aquatic habitat in Colorado - your best chance to catch a trophy trout! Gold Medal waters support recreational fishing, by keeping fish in the water and letting them grow to a larger size. Brown and rainbow trout fishing is good from the Rio Grande Reservoir downstream to Del Norte. The section of water between South Fork and Del Norte provides the best location for catching trophy brown trout.
There are several access point for the Rio Grande, please consult state guide book, and observe all posted private property markers. When fishing any Gold Medal waters, be sure that you know what the possession limits for the area are and the type of fish allowed. This information can be obtained through the Colorado Fishing Season Information printed, by the Colorado Division of Wildlife.
Stream & Creek Fishing
The Rio Grande and its tributaries offer slow running waters, excellent for fly fishing as well as with lures. Many of the river's smaller tributaries offer stream sized fish, and are abundant with aquatic life like cutthroat and rainbow trout. The most popular streams include: Embargo, Beaver, and Rock creeks. The South Fork of the Rio Grande offers good stream and bank fishing, wading, bait, cast and fly fishing for browns, rainbows, and brooks. It is accessible by car with some walk-in areas.
Fishing Licenses are required for people 16 years or older. Visit www.fishtheupperrio.com for more info.

Lakes & Reservoirs
There are over 80 in the area, 13 of which are 20 minutes from town. From high mountain lakes that require a lengthy hike, to nearby reservoirs accessible by any car and outfitted with boat ramps and handicap amenities, you are sure to find water suitable for your style.
Million Reservoir
Elevation 8,700 ft. The 4 acres of water, offers a variety of Rainbow Trout, which are best caught on either bait, lures, or flies. The reservoir is located on the Beaver Creek Reservoir road, on the edge of South Fork and is then only about 5 miles, through some of the best site seeing forest the Rio Grande has to offer.
Big Meadows
Elevation 9,200 ft. 114 acres of water, with easy access for kids, and seniors, and is HANDICAPP-accessible. Big Meadows offers a variety of fish including rainbow and brook trout, salmon and German browns. They are all caught equally well with bait, lures, and flies. It is farther from town than the other reservoirs, at a distance of 18 miles, but the drive is well worth the fish found in its waters.
Beaver Creek Reservoir
Elevation 8,850 ft. 114 acres of water offers easy access for kids, seniors, and is HANDICAPPED accessible. Like Big Meadows there are various types of trout, browns, and salmon, found in its waters. Caught on any type of rig that you may want to use whether bait, lure or flies. This is one of the closest lakes to town, with exceptional fishing, with a drive time of only 15-20 minutes. The lake itself is approximately 8 miles outside of town, with a spectacular drive that warrants a slower drive time. This lake also offers exceptional winter ice fishing.
Shaw Lake
Elevation 9,850 ft. 20 acres of water. This lake offers good trolling for cutthroats and brookies. All caught equally well on any type of lure. Facilities available at the lake includes a boat ramp, rest rooms, and is handicap accessible.
Alberta Park Reservoir
Elevation 10,202 ft. Surrounded by grassy meadow and conifer forest. Fair for 10-12" rainbows and 8-12" brooks.
Hunters Lake
Elevation 11,400 ft 8 acres of water. The fish can be slow to bite, but are available for the patient angler. However, fly fishing is good for rainbows. This lake requires a 1/2 mile hike from your car.
Tucker Ponds
Elevation 9,700 ft. With 4 acres of water. This is a great spot for amateur fishing, with good bait, and fly fishing for rainbows. This area is accessible by car and offers camping facilities, and picnic area. HANDICAPPED accessible to two docks and toilet facilities.
Pass Creek Pond
This lake is also good for bait and fly fishing for rainbows. There is limited parking, with no other facilities but is winter accessible.
High Mountain Lakes:
Archuleta Lake - Elevation 11,720 ft. 4 acres of water. Is located in a wilderness area and is only accessible by horseback or hiking. It offers slow fishing for cutthroats, rainbows and brooks.
Crystal Lake - Elevation 11,300 ft. approx. 9 acres of water in both the upper and lower lakes. Fishing is good for brookies, cutthroats, and rainbows at both locations.
Crater Lake - Elevation 12,700 ft. The 10 acres of water is excellent for fly, cast and bait fishing. It is located on the west side of the Divide, and offers great trophy cutthroats and rainbows. Access is by 4-wheel drive or a difficult hike.
Ice Fishing
Several lakes in the area are great for winter ice fishing. A few of our favorites include Beaver Creek Reservoir, Big Meadows Reservoir and Road Canyon Reservoir west of Creede.