Guided Trail Rides
Imagine yourself sitting on one of the most magnificent animals known, the horse. Full of power, agility and grace, let one of these beautiful animals along with a guide, take you to the highest mountain peaks and valleys around. Where you can enjoy the most spectacular views of the San Luis Valley, from a new and unique vantage point, few experience on the back of a horse.
Cottonwood Cove
Located 10 miles north on Hwy. 149, they offer 1 or 2 hour guided rides on a daily basis across the Rio Grande River and up through the mountains of the 4UR Ranch. Ask about their special trips to Wheeler Geological Monument & other beautiful destinations in the San Luis Valley. Children must be 6 years to ride. For information call (719) 658-2242.
Wilderness Adventures
Wilderness Adventures is located 6 miles west of South Fork on Hwy. 160 at Moon Valley Resort. If you are looking for a short ride, they offer 1, 2 & 3 hour rides along the Navajo Trail. They also offer overnight pack trips. You can decide the length of time you would like to stay, but make sure you call in advance to schedule
your trip. For information call (719) 873-5216
Freeman Ranch
Located west of Creede on Hwy. 149. They offer hourly and daily rides behind the ranch on private property. If you are not interested in taking a guided ride you may choose to lease a horse and go for an enjoyable journey on your own through Colorado's beautiful mountains. For information call (719) 658-2454.
Guest/Dude Ranches
The South Fork/Creede area also offers a large number of Guest Ranches.
4UR Ranch (719)658-2202
Freeman's (719)658-2454
Lost Trail (719)852-2525
RC Guest Ranch (719)658-2253
Double Spur Ranch (719)657-3139
Schaffer's Guiding (719)657-2204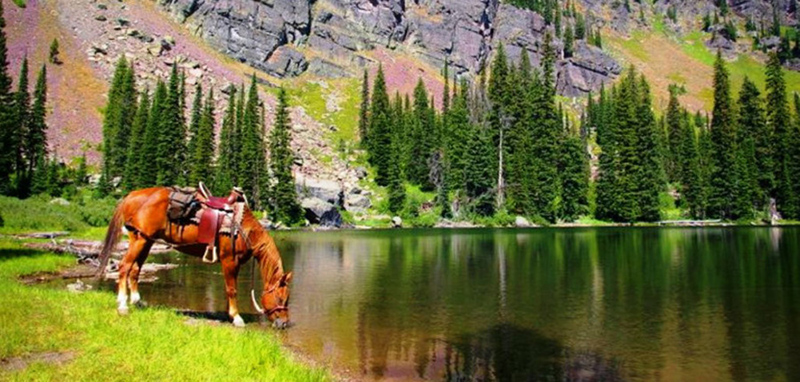 BYOH or Bring Your Own Horse
Rio Grande National Forest at Luders Creek Campground. is the only campground that accommodates horses/livestock overnight with corrals and water. Other forest campgrounds may have areas outside campground boundaries where horses can be staked overnight. Dispersed camping with horses is allowed, guest is responsible to bring certified weed free hay or pelletized feed. You may use portable panels or electric fence to corral horses.
Three stock-­friendly campsites have been added to the Rio Grande National Forest's Luders Creek Campground. Each campsite includes a corral and adequate parking for trailers. The campground is a good staging area for the nearby Colorado Trail and Continental Divide National Scenic Trail. No privately owned animals at any developed recreation sites on the Saguache Ranger District EXCEPT Luders Campground.
Equestrians are asked to abide by these rules, which apply to horses, mules, donkeys, llamas and other pack animals:
Use only certified weed-free hay and processed feed.
No grazing is allowed in or around the campground.
Stay on hard surfaces at all times in the campground and on trails.
No picketing, hobbling or tying livestock to natural features, such as trees, bushes or rocks. Use hitching rails, horse trailers or outside fences of corrals for temporary tethering—and corrals for keeping stock overnight.
A watering site is available in Luders Creek. Please follow signs, lead stock to water and stay in the hard-surfaced area. Other than at the watering site, stock is not allowed within ¼ mile of the creek. (Note: There is no drinking water for humans at the campground, so be sure to bring plenty.)
Clean up after your stock and take manure with you to dispose of properly. Pack it in, pack it out.
No riding in the campground. Saddle your horses and lead them (and any pack stock) to the road or trails. All stock must be under your control at all times.
Have respect for other campers who don't have horses—and remember that they may not know how to act around stock.
San Juan National Forest – Palisades Campground - This campground is only for people camping with livestock. A one-way loop offers pull-through and back-in units at 12 campsites. Each site has either a hitching rack or four-unit stall with feed manger. In addition to potable water for campers, there is a water tank for livestock. Grazing is not allowed in the campground, so bring adequate weed-free feed for your livestock.
To check availability and reserve specific sites please check Palisades at www.recreation.gov or 1-877-444-6777
For current weed-free sales, go to https://www.colorado.gov/pacific/agconservation/weedfreeforage
For Back Country horse Use, go to http://www.bchw.org/lnt/lntbk.htm
For Horse riding/camping in the Rio Grande National Forest, go to http://www.fs.usda.gov/activity/riogrande/recreation/horseriding-camping/?recid=28882&actid=104
http://www.fs.usda.gov/activity/riogrande/recreation/horseriding-camping/?recid=28882&actid=30
For Horse riding/camping in the San Juan National Forest, use the links below.
http://www.fs.usda.gov/activity/sanjuan/recreation/horseriding-camping/?recid=42728&actid=104
http://www.fs.usda.gov/activity/sanjuan/recreation/horseriding-camping/?recid=42728&actid=30
"One or two hours in the Saddle gives you a great, new perspective of the beautiful & colorful Colorado Mountains."
"Eight to ten hours in the saddle gives you a great, new perspective on pain"