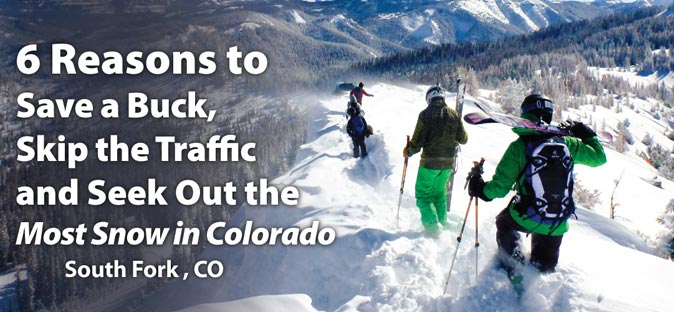 Photo by Robert Tadlock via Flickr, CC BY 2.0
[1] Powder Country Wolf Creek Ski Area boasts the most snow in Colorado year after year with an average of 430+ inches. wolfcreekski.com
[2] Skip the Crowds Discover little traffic, short lift lines (seriously…maybe 10 people), and untouched powder everywhere.
[3] Super Affordable South Fork and Wolf Creek Ski area are so affordable you can stretch a two-day vacation budget for other areas into four days here! Lodging • Dining • Rentals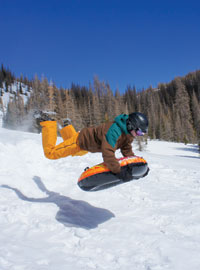 Photo by Robert Tadlock via Flickr, CC BY 2.0
[4] Remote Yet Accessible Stop Looking For the Remote. You've found it. Luckily, it's only a four hour drive from Denver…without routing you down the traffic-jammed I-70. Map
[5] Endless Possibilities Tired of skiing or just seeking a different powder adventure? Try exploring the back-country on cross country skis or snowshoes or find a lake for ice fishing. If a great time involves fast machines roaring through heaps of snow, check out our 255 miles of groomed snowmobile trails with innumerable off-trail opportunities on wide-open ridges, rolling parks and steep climbs. Access to Colorado's most scenic wintertime vistas at 12,000+ feet will take your breath away! Affordable rentals won't. Snowmobiling • Nordic Skiing/Snowshoeing • Rentals
[6] Did we mention the Powder? Nothing compares to a winter forest buried in waist-deep powder: dampened silence, crystal clear air and breath-taking vistas shrouded in sun-sparkling snow.
Now pardon me while I go powder my everything...