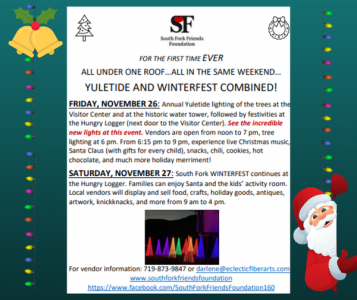 Yuletide & Winterfest
Saturday, November 27, 2021
Location : South Fork Visitor Center
The countdown to Yuletide has begun! Please join us, November 26th, as we light up South Fork for the holiday season. This year we will have the event in conjunction with Winterfest! Santa has scheduled his visit during Yuletide again this year; bring those kiddos down to enjoy the newly updated lights and receive a gift from Santa! There will be chili and refreshments served during the event and fun for everyone!
https://www.facebook.com/SouthForkFriendsFoundation160/
https://www.southforkfriendsfoundation.com/
Super excited to have all the festivities at the historic Hungry Logger. Thank you John Leder for being so generous and supportive of our little town.
VENDORS:
Any vendors out there who have not signed up yet please let us know ASAP. Contact information is on the bottom of this flyer. This is going to be a GREAT one.