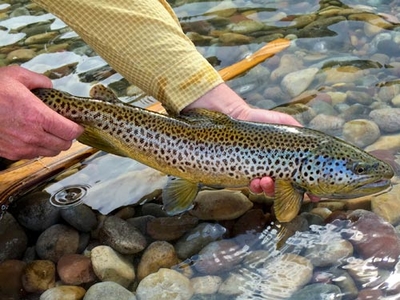 The Upper Rio Grande area offers some of the best fishing in Colorado. Gold Medal waters on the river and an abundance of creeks, lakes, and reservoirs provide year-round opportunities for the avid fisherman. May is one of those months that present numerous challenges. However, for the hearty angler it can be rewarding.
RIVER FISHING IN MAY
The Rio Grande, the South Fork River and many of the small feeder streams will enter run-off (high water) right around May 1st. The rivers will be stained and moving fast. CAUTION must be used if wading! I suggest larger flies and lure in dark colors such as black, brown, purple and blue. Fish close to the bank and behind boulders, in slow moving water. Be sure that your retrieve is also slower than normal. This will allow the fish a chance to see and target their prey.
LAKE FISHING IN MAY
The high country lakes will, for the most part, still be frozen. If you stick to lower elevation lakes such as Beaver reservoir, Million Reservoir and Big Meadows Reservoir you will fair much better. We recommend staying off the ice. The Rainbows in the lakes will be entering the "pre-spawn" time of the year. Target the fish around the outlets or inlets of the lakes, using darker colored flies and lures. Stick with the slower retrieve as water temps are still in the 30's and fish are not super active.

COMING SOON: June 15 will be the start of the Salmonfly Hatch. For the fly rodder this is one of the best times of year to target trophy trout.
Joel Condren is the owner of 8200 Mountain Sports, South Fork Anglers and Mountain Man Rafting. He has been a professional fishing guide/outfitter in South Fork for the past 21 years.