The Lone Ranger
Hi-Yo! Silverthread
Disney's The Lone Ranger Filmed Here
In the spring of 2012, Disney's latest block buster, The Lone Ranger, swept into town. More than 400 crew members and set construction builders poured into the area, taking up every available room along the Silver Thread Byway. Not since the silver boom of the 1890s have we been turned upside down like this! A palatable excitement filled the air. Everyone hoped to catch a glimpse of Johnny Depp or Armie Hammer. Movie groupies vied for a sighting of Verbinski or Bruckheimer, who are best known for producing/directing the Pirates of the Caribbean series.
Historic Railroad Sets Stage for Lone Ranger Movie
Written by Judith Stone
Don H. Shank is the founder of the Denver & Rio Grande Historical Railway Foundation, and more recently, Disney's go-to guy for many set materials required for The Lone Ranger filming.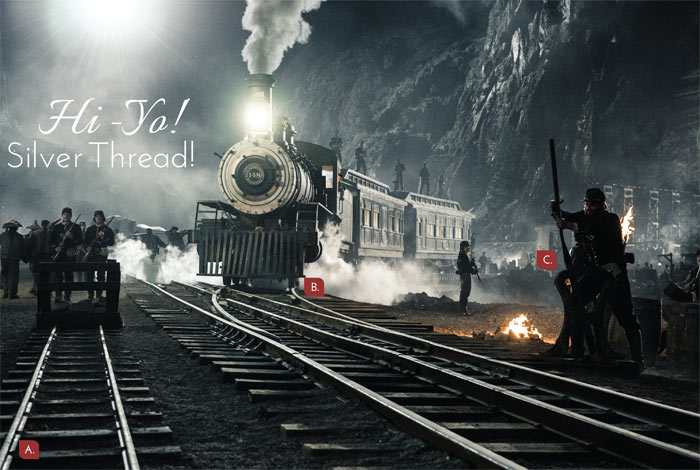 Scenes were shot on the rail line near South Fork and in the canyon above Creede. In fact, track was re-laid in locations throughout Willow Creek Canyon originally used by the Denver & Rio Grande Railroad in 1891. (A) Shank also became a consultant to Disney's crews when authentic reproduction locomotives built by the American Locomotive Company kept derailing on these tracks. Shank told them the reproductions were too long and rigid. Restricted lateral movement of the locomotive prevented it from making the sharp angled, seventeen degree turn. The crew tried widening the track but the locomotive continued to derail. Each day lost in a production can cost thousands of dollars and puts the rest of the filming schedule behind. John Fraizer, special effects coordinator of FX Special Effects Studios, Burbank, California, was called in to find a solution. He flew into Alamosa and went straight to Shank's Monte Vista rail yard where he spotted a 1920 locomotive he liked. He asked Shank if his crew could modify it for production. Instead of modifying a historical piece, Shank showed them how the locomotive was built and what modifications they could do to make their reproduction negotiate the sharp curve above Creede. Mr. Fraizer implemented Shank's ideas and the locomotive never derailed again, allowing film production to remain on schedule. (B)
Looking for an authentic switch, staff from Silver Bullet Productions revisited Shank's rail yard. An 1871 HAPP style switch stand was perfect for The Lone Ranger set. Only one catch: producers wanted the switch stand on-set immediately, and the tiny-boned woman and young man sent to fetch it were not able to lift the two hundred pound switch onto their truck! Shank was only three weeks recovering from major back surgery, but despite the warnings from his doctors to avoid heavy lifting, Shank couldn't let the young man try to lift the equipment alone. "My back hurt for three weeks afterwards, but was worth it to see the actual switch stand in a scene." (C)
The Lone Ranger, starring Johnny Depp and Armie Hammer, filmed hours of train shots on Shank's line between mile markers 305 to 311 near South Fork. Edge Performance, a film company that subcontracts for Silver Bullet Productions, can shoot any angle to create special effects. They retrofitted several vehicles with huge rooftop-mounted booms specially made in Russia. Their technologically advanced equipment literally makes a complete 360 degree circle in four seconds! Inside the vehicles, computer operators could see everything shot during filming on live-stream monitors - every angle, every direction - and could rework a scene from the script in seconds.
Production shot for twelve hours a day. They shot identical scenes next to the highway where logistics made it easier. With the magic of special effects and GPS positioning, Edge Performance would merge scenes to look like the actors were actually on a fast moving train along the banks of the Rio Grande. (D) The scene of a young boy throwing the silver bullet to The Lone Ranger (Armie Hammer) was shot in this manner.

Today's Denver & Rio Grande Railroad tours take passengers along the original line General Palmer's men built in 1883. Don H. Shank founded the Denver & Rio Grande Railway Historical Foundation in 1977 to preserve historic rail lines and equipment, and educate people on how the Denver & Rio Grande Railroad shaped the Upper Rio Grande River Valley! Visit www.denverandriogranderailroad.com to book a ride on this famous line that departs daily at 10:00 a.m. from the South Fork Depot. Specialty tours include the Rail & Raft Tour, where riders can ride up the Rio Grande and raft back down it, a shorter Afternoon Delight Tour, and the Rio Grande Moonlight Tour.
The Lone Ranger - Stories From the Locals
Filming At Night - By Judith Stone - When a slug line from a movie script (depicting scene location, time and whether production is shot inside or outside) reads NIGHT- as it did in The Lone Ranger - it means weeks of filming for a one or two minute scene. The difficult task of reversing circadian rhythms and tricking the body to be awake instead of asleep is hard enough. Add together Creede's high-mountain altitude of 8,799 feet, extremely dark night-skies unfamiliar to crew drivers, and a tight filming deadline. The result? Stressors compound.
The road to Creede, Highway 149, snakes along the Rio Grande where plenty of animals meander at night. The pitch-black night skies of the San Luis Valley are perfect for stargazing but terrible for night driving, especially when drivers are used to bright lights of the city.  More than one close call was reported with deer, elk, bear and other nocturnal critters, but thankfully, no one hit any animals.
Other scenes that made the silver screen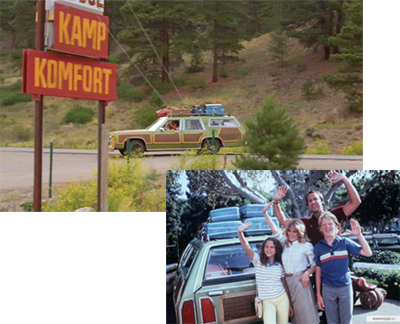 Riverbend Resort became the site of "Kamp Komfort" in the 1983 Chevy Chase film "National Lampoon's Vacation"
Clark Griswold: We'd like three tents for the night, please.
Kamp Komfort Clerk: All right. That'll be thirty-seven dollars.
Clark: Thirty-seven dollars for three tents?
Clerk: Oh, they're very nice tents, and that price includes scenery & wildlife fun!
Learn more: wikipedia • imdb • fast-rewind • waymarking • YouTube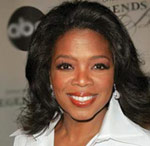 Oprah & Gayle's Big Adventure took them through Colorado and over Wolf Creek Pass. After a dip in Pagosa's healing waters, Oprah and Gayle ventured deeper into the mountains. "I have to tell you, if you haven't seen Colorado, you have not seen America," Oprah says. "There are some breathtaking views." As they passed through South Fork, Colorado, everyone got out to take a nice long view of the stunning scenery. "It was so beautiful, I wanted the entire crew in on this Kodak moment," Oprah says.
Learn more: (www.oprah.com/oprahshow/Oprah-and-Gayles-Big-Adventure-Part-2_1/15)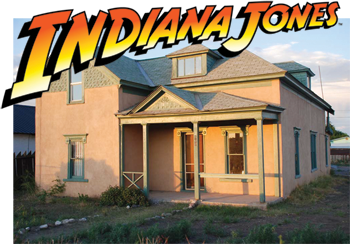 Indiana Jones and the Last Crusade was filmed in Alamosa, Pagosa Springs, Antonito and on the Cumbres & Toltec Railroad in 1989. The most recognizable part of the movie is the circus train sequence. At one point in the movie, Indy runs down 5th Street in Antonito and arrives at his home. Today, movie buffs can book a room for the night here (www.indianajoneshome.com).
Learn more: wikipedia • imdb • movie-locations • YouTube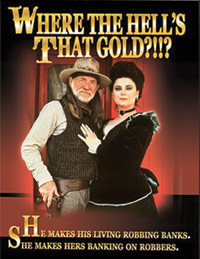 Where The Hell's That Gold? Willie Nelson stars with Jack Elam, and Delta Burke in this movie about two outlaws on the run after stealing and hiding a large amount of gold. Many scenes are filmed on the Cumbers & Toltec Railroad and in the southern part of the San Luis Valley.
Learn more: wikipedia • imdb • YouTube