Mountain Biking in the South Fork Area
Mountain Biking
The Rio Grande National Forest is filled with riding opportunities for beginner and advanced riders. Several trails are within a couple miles drive from town, and some are specifically listed as multi-use for bikes…not to mention the hundreds of miles of forest service access roads open to cyclists of all abilities. Many trails are multi use - so be prepared for hikers, horses, and ATV's along the way.
When riding any of the trails available you need to remember that we are at over 8,000 ft. on the valley floor, and you need to be prepared and physically fit before hitting the harder, higher altitude trails. There are numerous well maintained and beautiful trails.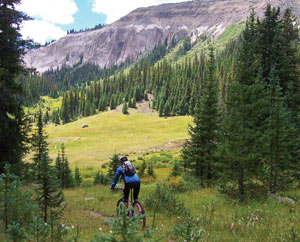 When using any of the trails in the area around South Fork, it is asked that all riders follow the IMBA rules of the trail which are as follows:
1. Ride on open trails only
2. Leave No Trace
3. Control your bicycle
4. Always yield trail
5. Never spook animals
6. Plan ahead
Our Favorite Mountain Bike Trails
Deep Creek #806 (F3-4)
LOWER: 4 miles, 2-3 hrs • Easy
This portion of the trail is a smooth sweeping single-track.UPPER: 7 miles, 4-5 hrs • ModerateThere are a few water crossings, and a few rocky sections.
TOP: 9 miles, 2-3 hrs • Expert
8750-11,400ft • A great challenge to clean the entire upper section.
Middle Frisco Creek #879 (J6)
LOWER: 4 miles, 2-3 hrs • Easy
Start out riding lower section. This portion of the trail is fairly smooth.
UPPER: 7 miles, 3-5 hrs • Moderate
9500-12,000ft • Expect to avoid a few stationary rocks and tree roots and work on switchback skills!
Penitente Canyon (K3)
A LOOP • 2.75 miles • Moderate
A loop will start out with a short grunt of a climb, and then it levels out on the ridge where it is fast and fun. For expert riders, there are plenty of challenging "Rock options" along the way.
B LOOP: 2.75 miles • Easy
B loop is a good place to learn the basics of mtn. Biking on single-track. The trail is mostly smooth with a few minor rocky spots. Also good for Intermediate riders to focus on form and speed.
Treasure Mountain #565 (G7-8)
28.5 miles, 4-7 hrs • Moderate, Expert
This trail will test your abilities for downhill biking! Occasional dismounts over creek crossings.
Trout Creek #831 (G-H5)
4 miles to the creek • Moderate, Expert
This is a fun trail but be careful of exposed areas - don't fall off the trail. For expert riders, the trail is fast and great for race training.
Palisade #761/Alder Bench #799 (H4-5)
7 miles, 2-4hrs • Expert
Expect some rock gardens, and even a few spots with some loose rock.
Lake Fork #836 (G6)
7 miles, 4-7hrs • Expert
This trail is comprised entirely of expert level high alpine single-track. The trail crosses rock slides & climbs to high alpine meadows giving you some of the most amazing mountain views.
Penitente Canyon & La Garita Arch
Experience the Power of Place
Grab breakfast in town before heading east towards the San Luis Valley. To take the "scenic route" east, turn off at the Ute Bluff Lodge onto CR 19, cross the mighty Rio Grande and follow the paved/dirt CR 15 as it snakes along the river, through scenic ranches and farmland for about fifteen miles. Consider a detour at the sign for Colonel Pfeiffer's Grave, and visit the land granted to him by the Native Utes. Pass by Indian Head and other unusual and remarkable mountain outcroppings. Zigzag south-east-north just before getting onto Colorado 112 and travel north along the outer edge of the Valley for just over 2 miles. Follow the signs for Penitente Canyon and La Garita, and turn onto CR33/38A.
You will first take an 11 mile round-trip expedition to see the Arch, or La Ventana (spanish for "window"), one of southern Colorado's most unusual natural formations. Note the interesting geology of the area: about 33 million years ago during a period of explosive volcanic activity, large amounts of volcanic debris and ash were ejected into the air. Heat and pressure formed the ash into very hard rock, and millions of years worth of erosion deteriorated the softer material, leaving behind what we see today! The Arch was carved out of a volcanic "dike" and you might notice the signs of weathering on nearby companion arches.
To see the Natural Arch: Take a left off of Rd 33/38A onto FS 660/Rd A32. Follow this road for 4.1 miles. Take FS 659/ Rd 35C and go another 1.6 miles north.
South Fork to the Natural Arch: aprox 1 hr drive.
Return to Road 38A and continue north-bound. Next up is Penitente Canyon, a designated Special Recreation Area with something for everyone!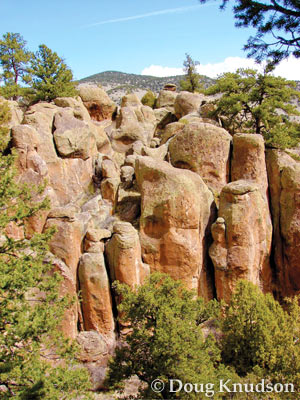 For the sight-seer, hiker and history buff: Take the short hike up to see the Wagon Wheel ruts, a part of the Old Spanish Trail that served as a pack-animal route for traders traveling west to California in the mid-1800s. Wander throughout the unusual canyons in search of the San Luis Valley's largest collection of pictographs. Most is the work of indigenous peoples who lived in the area 2,000 years ago, but a newer example is the faded blue Madonna high up on a rock face, reportedly painted by locals in the mid 1900s.
For the rock climber: Penitente Canyon is an internationally recognized climbing area, providing 60-70 incredible sport climbing routes. The unusual volcanic landscape (rock that eroded and cracked over time) not only created a mystical backdrop for recreation, but the smoothed and rounded rock-face provides good hand-holds! South facing routes can be climbed year-round and range from beginner to advanced levels.
For the mountain biker: 2 mountain bike loops offer a great opportunity to see the area. The B-loop is best for the beginner, while the A-loop is more fun for an advanced rider. Each route is less than three miles, and can also be hiked.
If you need a snack break, return to CR 38A and drive the short distance to the town of La Garita. Stop at the Cash Store, an old log cabin turned general shop. Visit the picturesque 1924 Catholic church that today houses the San Juan Art Center. Make your return trip via Del Norte. Consider a stop by the Rio Grande County Museum for more about the local heritage and make a note to ask about Colonel Pfeiffer, a well know and respected Indian Agent! Wander Grand Avenue's antique shops and art galleries, and have dinner at the Historic Windsor Hotel.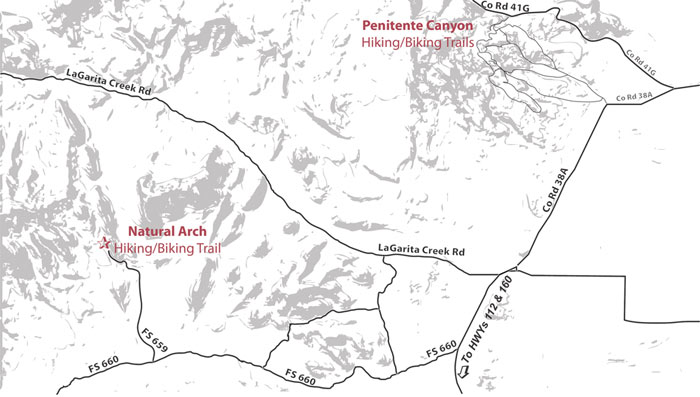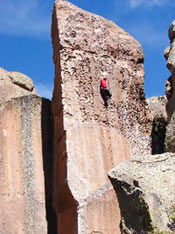 Learn more at www.fs.usda.gov/recarea/riogrande/recarea/?recid=64790
Download a detailed map of the area