Fall is in full bloom in September and October in Colorado. South Fork is a great basecamp to explore a little backcountry with history!
There are so many amazing fall hikes, drives, and scenic views in the area just 4-5 hours from Denver and Albuquerque. Perfect for ATV/OHV, jeeping, golfing, fishing, biking or hiking!
[1] Follow the Silver Thread Scenic & Historic Byway for 117 miles through South Fork, Creede, Lake City and Gunnison. The colorful old mining and logging camps of the Silver Thread Scenic Byway offer a wealth of history, while the surrounding Wilderness and National Forest lands serve up a huge dose of scenic beauty.
[2] Visit South Fork during COLORFEST: A Tour of Fall Splendor. Access our glorious backcountry for an unrivaled Fall Colors Tour! Bring a car, ATV, jeep or bike. The area offers hundreds of miles of trails designated for motorized traffic. These trails will take you to mountain peaks and amazing vistas of the San Luis Valley, to creek bottoms and dense forest growth. No matter your mode of transportion or your skill level, beginners to advanced riders will find limitless possibilities, day after day. People come back, year after year to see all the beautiful colors -- for good reason – it's breathtaking!!
A trip to Southern Colorado wouldn't be complete without a drive around the Bachelor Loop. This 17-mile driving tour loops through Creede's historic silver mining district and ghost towns.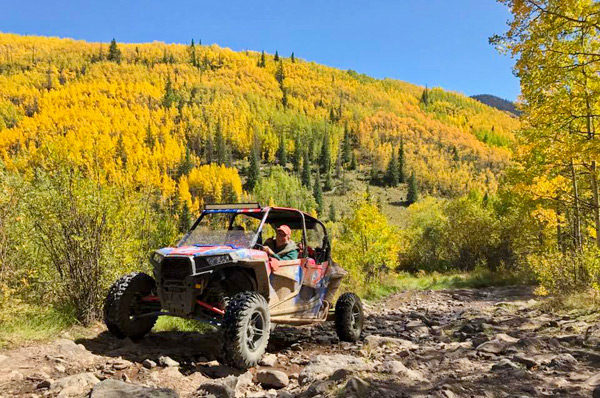 Photo courtesy
Mountain Skillz
[3] True Mountain Golf: South Fork's exquisite 18-hole championship golf course offers the ultimate mountain golf experience. Players enjoy the award-winning combination of sandstone outcroppings, pine, aspen and cottonwood groves (stunning in their Fall Colors), and a challenging shot over the mighty Rio Grande River, all on the front nine! The back nine consists of dramatic elevations, serene Alder Creek and a truly mountain style nine that will seal-the-deal for a return visit. www.southfork.org/colorado-golf
[4] It's tough to beat fall fly fishing on the Rio Grande's Gold Medal Waters. South Fork boasts the longest stretch of Gold Medal Waters in the entire state: nearly 20 miles! There's also an abundance of creeks, lakes, and reservoirs provide year-round opportunities for the avid fisherman.
[5] Geological Wonders: Experience the power of place while exploring Wheeler Geologic Area - Discover a mysterious ghost city with spires and minarets that float like a cloud above the surrounding wilderness.
Fall is a great time of year to visit North Clear Creek Falls, the most photographed waterfall in Colorado!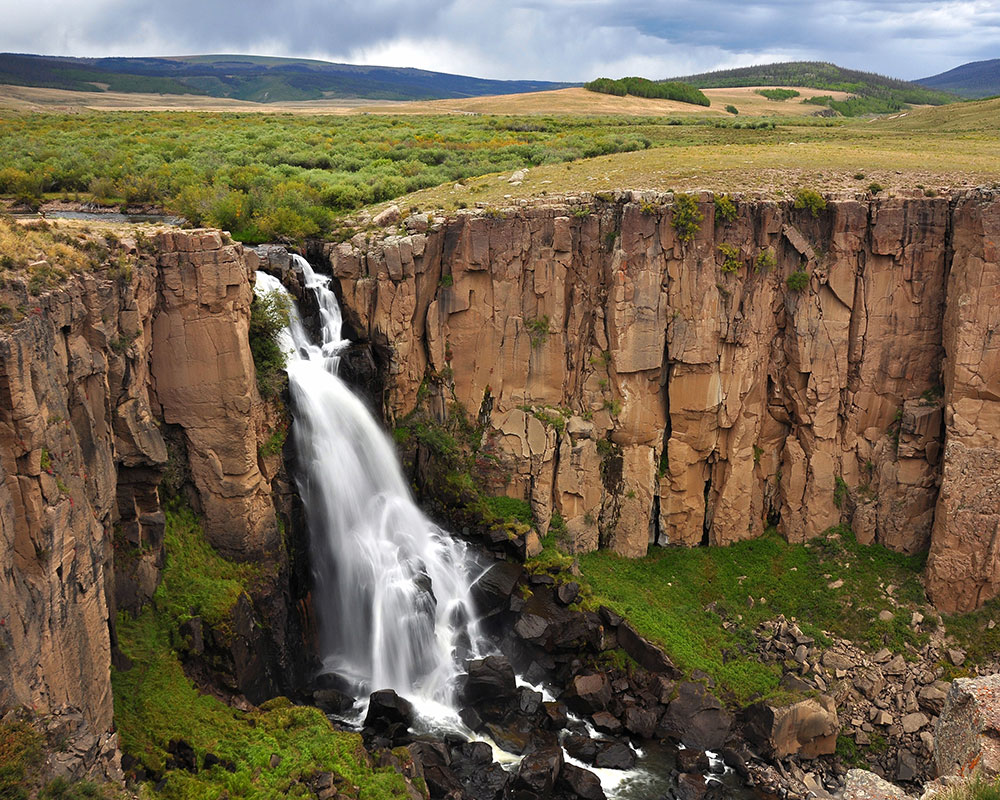 By Larry Lamsa • Original • Flickr, CC BY 2.0
---