Nordic Skiing & Snowshoeing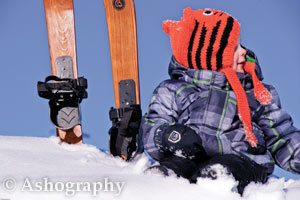 Because of the area's plentiful snow and wide variety of terrain, those who prefer less-developed places to ski have a bounty of options. Local outdoor clubs groom trails perfect for snowshoers and will link skiers to the freshest back-country available. Both adventurous and inexperienced snow bunnies will find something to their liking.
Please remember weather conditions can change rapidly so be prepared with extra clothing and goggles. Clothing need not be elaborate, or even designed for skiing, but a wool hat, warm gloves or mittens, and underclothing is a must. Also don't forget that sunscreen and sunglasses are necessary in the high altitude sun.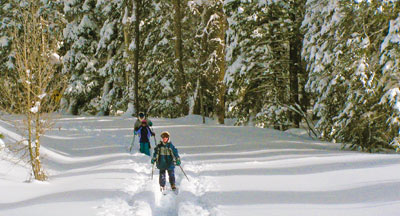 Local Outdoor Clubs
The Silverthreaders and Powderbusters are diverse groups of locals, part-timers, and visitors that enjoy ATV riding, camping, hiking, snowmobiling, snowshoeing, fishing, hunting, skiing and motorcycling. Their many organized activities aim to preserve the multi-use of our magnificent outdoors and impart responsible recreation use. They organize weekly outings for hiking (3x's per week), ATV/4x4 rides, snowmobile and snowshoeing.
Ask for a copy of their recreation map from the Visitor Center
Consult local sources concerning directions and trail conditions before going out. Never enter the backcountry alone and always leave detailed information with someone.