Because of the area's plentiful snow and wide variety of terrain, those who prefer less-developed places to ski have a bounty of options. Local outdoor clubs groom trails perfect for snowshoers and will link cross-country skiers to the freshest back-country available. Both adventurous and inexperienced snow bunnies will find something to their liking.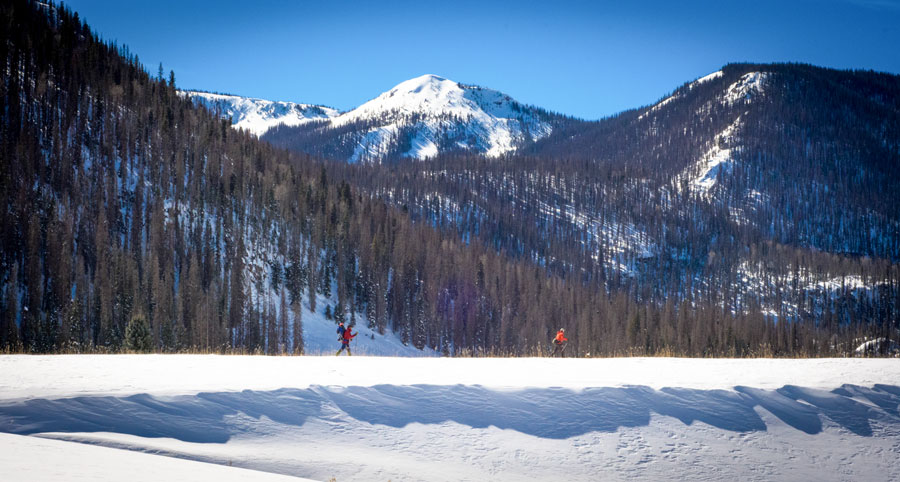 South Fork Nordic Club
Their primary grooming focus is the South Fork Guard Station Trail (SW of South Fork) but they also groom Home Lake (East of Monte Vista); Beaver Reservoir Area (South of South Fork); and various other higher elevation sites based on snow availability and skier needs. All trail maintenance and grooming is done by volunteers of South Fork Nordic.
www.southforknordic.org
San Juan Nordic Club
They groom Big Meadows (11 miles southwest of South Fork), Rock Creek and Bishop Rock(southwest of Monte Vista), and the Monte Vista Golf Course. The trails are groomed for classic and skate skiing and they are free and open to all!
Upper Rio Grande Nordic Club
They groom Creede area trails at Ivy/Lime Creek, Six Mile Flats, and Deep Creek. Contact info: This email address is being protected from spambots. You need JavaScript enabled to view it.
Wolf Creek Ski Area
Wolf Creek has nearly 10 kilometers of cross country trails. To get there, take the ski road at the end of the lower parking lot to Alberta Park. A 4 kilometer loop goes around the natural meadows. An additional 6 kilometer loop takes you down to Alberta Reservoir and back through the trees. Tracks are groomed regularly for both classic and skate skiers. Snowshoers are welcome. If you bring your dog, please clean up after it. Use of the cross country trail is compliments of Wolf Creek Ski Area - no charge.
https://wolfcreekski.com/wolf-creek-back-country-hikes/
Please remember weather conditions can change rapidly so be prepared with extra clothing and goggles. Clothing need not be elaborate, or even designed for skiing, but a wool hat, warm gloves or mittens, and underclothing is a must. Also don't forget that sunscreen and sunglasses are necessary in the high altitude sun.