Wheeler Geologic Area - A mysterious ghost city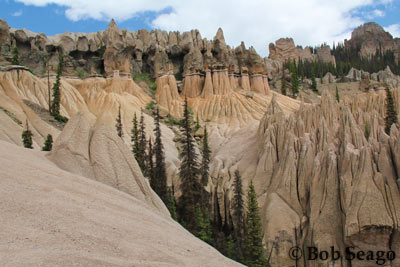 The Wheeler Geologic Area resembles a mysterious ghost city, with spires and minarets that seem to float like a cloud above the surrounding mountains.
The formations are contained in a tiny 60-acre section of the Rio Grande National Forest where a mound of volcanic ash has eroded into a landscape that is so bizarre it seems to belong on another planet. This unique and somewhat eerie geologic phenomenon originated as part of the violent volcanic history of the San Juan Mountains. After millions of years of erosion, tall spires appear as if a race of giants had sculpted the pinnacles and placed rocks atop them. Erosion of vertical cracks produced rows of ash columns that look like a parade of pale soldiers or huge ghosts. Those who have written about the area describe the panorama of spires and pinnacles as forming castles, cathedrals and mosques.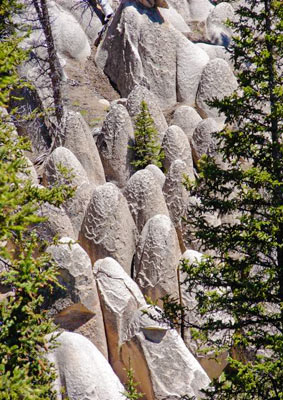 The area is a wonderful place to see, but getting there requires a good bit of effort. Wheeler is located 24 miles from South Fork on Pool Table Rd. The 14 mile, 4-wheel drive road to the area is quite rough and in wet weather it can get very slick and become impassable. It is an expert level trail. An early start is required, as the trip takes a full day. Potential travelers are advised to check with the Visitor Center and the Creede Ranger District Office prior to making the trip. Visit www.southfork.org for a very detailed trip description.
Summitville to Elwood Pass & Stunner - Backcountry with History

Take Hwy 160 southwest from South Fork for 7 miles, and turn left on Park Creek Rd/FSR 380. Here is an area where Multiple Use Management of the Rio Grande National Forest's Resources can be seen. A long-term contract was awarded by the Forest Service in 1954 to harvest 62 million board feet of timber. Ranches from the San Luis Valley also graze their cattle and sheep in these meadows. The efforts of many fishermen are often rewarded along the banks of Park Creek. After about 15 miles along this road you will have two choices: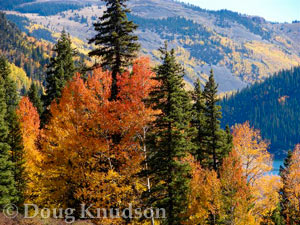 1. Turn left on FSR 330 and in 3 miles you will reach Summitville. Gold was discovered here in 1870 by a group of Midwestern friends who found their way to this remote section of the San Juans. The secret of "Wightman's Gulch" quickly leaked out, and the following summer brought hundreds of prospectors to what became the largest camp in the district at that time. By 1885 Summitville had over 2,500 staked claims and a population of around 700. A post office, school, daily newspaper, and at least 14 saloons allowed miners to live here year-round, enduring some harsh winters.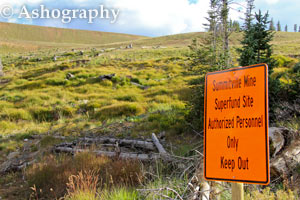 The boom faded in the later 1880's and the town was nearly abandoned by 1894. Some mines were reopened in 1935 and a significant amount of copper was extracted during World War II. The area had a $2,000,000 shot in the arm in 1985 when mining resumed with a new process for extracting ore. However, the company filed bankruptcy and Summitville Mine is now closed and in the reclamation process, as a Superfund Site. Don't drink the water!
Option 2. Stay on FSR 380 and travel through picturesque Elwood Pass (which can be very rough) towards another abandoned mine site, Stunner. Continue on FSR 380 and eventually reach Platoro, 41 miles off Hwy 160. To return, follow the same route or go back to Summitville and follow FSR 330 to CR 14 (Pinos Creek) toward Del Norte. (See map on page 12)
Beaver Creek Reservoir & Poage Lake - Classic Rocky Mountains
Go south of South Fork on Hwy 160 and turn left on Beaver Creek Road. Follow this road for 7 miles to the Beaver Creek Reservoir. Here you may fish, boat or just admire the scenery. Great creek fishing stretches below the dam for several miles. In the winter, find a great sledding hill and superb ice-fishing on the far side of the reservoir. Continue on this road another 13 miles to Poage Lake. A short 1/4-mile hike gets you to the banks of the picturesque lake. Back-track to the turnoff, and the route also continues on to Summitville and loops back through Del Norte, for a full day's trip.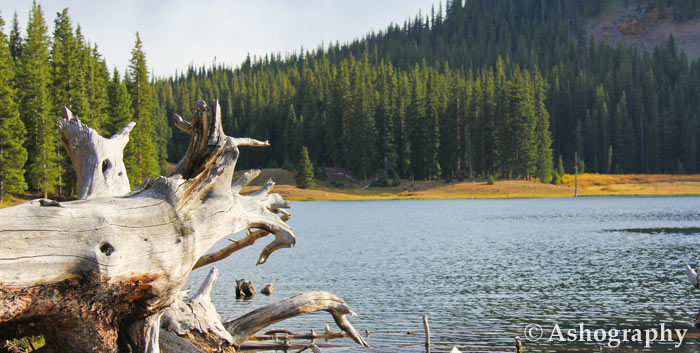 Big Meadows Reservoir, Shaw & Hunter's Lakes - Into the high country for fall colors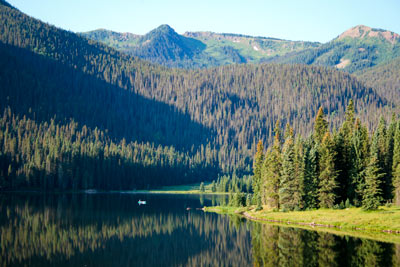 Take Hwy 160 southwest of South Fork 12 miles and turn right on FSR 410 to Big Meadows Reservoir, a 600-acre lake with a spillway waterfall, boat ramp, fishing pier and amenities. This area is a delight to campers, fisherman, hikers, and boaters alike, and is a state wildlife area, where deer, bear and moose are easy to spot.
Depending on road conditions, you may choose to continue past Big Meadows for 3 miles to Shaw Lake. If you have a few hours of daylight remaining, drive an additional 11 miles to the parking area for a short 1/3-mile walk into Hunter's Lake. A nice 1-mile hiking trail circles the lake and gives fishermen access to the trout swimming in its waters.