Moonlit train rides and a 3-day music festival along its banks;
kayak races, raft trips and fishing tournaments on its waters;
and mushroom hunting in its basin...

South Fork Fishing Tournament
Have competitive fun fishing around South Fork! For one week each month, the South Fork Visitor Center will host the tournament. Rules are simple: take a photo of your week's largest fish with a ruler at the site of catch (and return fish to water if not keeping to eat). Then bring your photo in person to the Visitor Center and show staff between 8:30am and 5pm any day of the Tournament Week. Largest fish wins a prize!
More...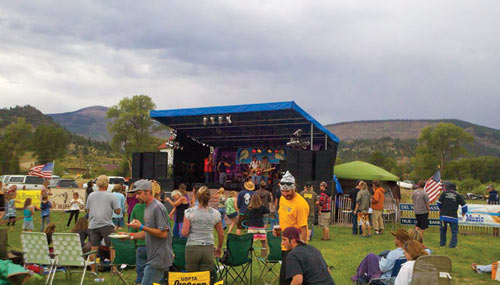 Rhythms on the Rio Music Festival
Who doesn't like three days of down and dirty music in the great outdoors on riverfront property? Peruse the vendors, play some horseshoes, and dance the night away to 10+ bands...don't worry about driving, on-site camping is part of the whole Rhythms experience.
More...
Canoe and Kayak Races
A resurrection of a historical event in South Fork: race down the Rio Grande in a canoe or kayak, solo or tandem! Race takes place once a month in June, July and August, or as long as there is sufficient flow in the river. Registration required day before event and your craft must be inspected just prior to race start. Contact the Visitor Center for the rules, regulations and registration.
More...
Mushroom Foray
For mushroom enthusiasts and wanna-be mushroom enthusiasts. Get quick tips regarding the proper way to identify and collect mushrooms from an expert and then head out for a nearby hike to look for and collect mushroom species. Once all of the mushrooms have been collected, the participants return to the Visitor Center for identification and discussion of what was discovered.
More...

Moonlight Train Ride
Experience a train ride under the full moon as it glides along the Rio Grande River and the moon reflects off the water. Check the schedule for this once a month event on the local South Fork Denver & Rio Grande Railroad.